Stats:
Webmistress:
Casey
Webhost:
Dreamhost
Coding:
Casey
Design:
Casey
Number of Vids:
52
Views:
Disclaimer:
Harry Potter is the property of J.K. Rowling and Warner Bros. Star Wars is the property of George Lucas and Lucasfilm. Yu-Gi-Oh! is the property of Kazuki Takahashi, 4Kids, etc. Supernatural is the property of Eric Kripke, Warner Brothers/The CW, etc. Kingdom Hearts is the property of Square-Enix, Disney, etc. I don't own any of these franchises. I do, however own DVDs/Blu-Ray discs/Games from them. I just like to play in a small part of these as a fan of these shows/movies. I also don't own the songs—the CDs they come from, yes, but the songs used belong to their recording artists and labels.
Making XVID Files Work in Vegas
Okay, it's an age-old problem. WHAT??? MY AVI FILES WON'T LOAD IN VEGAS!!! ALL I GET IS THE AUDIO!
Most likely, your problem is that these files have the XVID codec, and Vegas doesn't like those. There is a way to make Vegas accept it, and I'll explain below.
First off, you're going to need to check the properties of your avi file in question to make sure that it's encoded in XVID. Right-click said file and select Properties.
It'll list the video and audio codecs. What you want to look for is "XVID" listed at the video codec.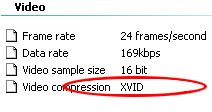 (If it says XVID, go on to the next step. If it says something else, then most likely it's corrupted because Vegas tends to accept avi files—check the Accepted File Types in Vegas tutorial for the full listing.)
To make the XVID avis work in Vegas, you're going to need to download a nifty little program called avic here (it's a little zip file—it doesn't take up a lot of space). What this does is lets you change the FourCC code so that Vegas will play and edit XVID avis.
Open up avic, then click the folder icon to select your XVID file.
Then type in "DIVX" for both the description and used boxes (and yes, type DIVX in all caps; also, ignore the drop-down arrows), then click Apply.
And that's it! Your XVID avis will be read as DIVX—which Vegas will accept—and be loaded in Vegas with no problems.
The only two problems with using XVID avis in Vegas are that 1) you might come across some "blank" or black frames in the middle of scenes, and 2) sometimes the audio is only 5 secs long (or less). That's because the audio codec is VBR MP3, which Vegas isn't a fan of. You'll be better off saving the audio as a separate .wav file—if you're wanting to put audio clips in your videos.
NOTE: It's a neat shortcut to save yourself time for editing shows/movies that you've downloaded from torrents/websites, but it still may not work. If it doesn't, you're better off converting the XVID files you downloaded into another codec, or ripping from your DVDs or Blu-Ray discs to a format that'll work in Vegas.
____________________________________________________